If you have an upcoming important printing job for a project that you are working on, wouldn't it be best to get it done right and by professionals? At times like these, you cannot afford trial and error and thus need to trust professionals who get the job done right the first time.
There are numerous advantages to all sizes of business and clients in using professional printing services. Let's take a look at the top 5 advantages.
You can place giant printing orders and the company will deliver them to you when you need them – which is before the deadline. This means not having to take out any extra time from your daily schedule to worry about printing for a promotional campaign or an upcoming presentation. With the help of third-party print shops, a finished product can be ready without you having to waste your precious time or resources when you need it.
You have way too many options – if you were to ever look and see the storage of a typical printing company, you would be surprised to find it jam-packed with printing materials and resources that your company could only dream of having. Of course, since these printing companies specialize in offering printing services, it only makes sense why they be able to offer you an array of exciting options that will enhance the overall aesthetics and longevity of your document covers, direct mail, and business cards – there are so many options that you will actually need professional advice to help you narrow down your choices.
When you outsource your printing tasks to a professional, you are basically getting instant access to printing professionals. Unlike a majority of business owners and their staff, these professionals know the ins and outs of printer ink, paper stock, and other printing methods (along with the complex equipment that bring it all together) like no one else.
You no longer have to worry about answering questions such as "what card stock should I use for my business cards?" "How do I add photos into my direct mail?", "How do I pick a brochure style that complements my target audience?" etc. because the printing company will help you find the best solutions to all your concerns. And as far as producing quality results are concerned, making the right choices is extremely essential. Having an expert take you through all the suggestions and suitable options means you are getting the top quality input you need to make your print jobs stand out.
You can take advantage of better equipment – in addition to free advice, professional printing services utilize the use of cutting-edge printing gear. Better gear means better results.
It is much faster – big printing companies have the expertise, the in-stock materials and the equipment to get the job done on time.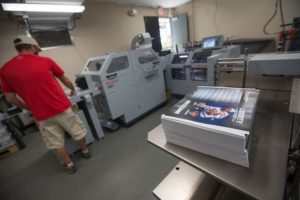 All these reasons make it pretty clear why using professional printing services is better than DIY. If you are looking for the best printing service in NYC, contact us today to schedule an appointment.
We offer the latest printing techniques. Contact us at 646-205-3037 to schedule a meeting.