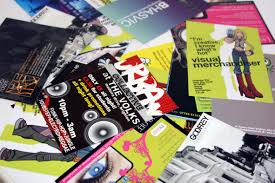 A flyer is still a great promotional tool nowadays, despite the constantly decreasing attention to physical marketing from some beginner entrepreneurs. There's a reason major companies have not given up on printed advertising and similar techniques though – because they simply work. If you still haven't explored that part of the marketing world, you're missing out on a lot. There is one important detail to consider before you get started though – it's not just about what's on the flyers, but also how you get them to your customers. Many promotional campaigns fail simply because the materials are delivered in an annoying way, and flyers seem to predispose to that somewhat.
Hand-outs at Related Events
If you're going to go with the personal approach – handing out a flyer by hand to everybody – you should at least do it at a place where it's more likely that a random person would be interested in your product. Conventions and other gatherings of like-minded folks are a great starting point, but if you get creative, you can probably come up with ones that are even more suitable to your specific line of work.
Packaging with Other Goods
A common strategy that works very well is to get in touch with online vendors selling products related to what you're promoting, and get a deal to distribute your flyers in some of the packages they're sending out to their customers. You've probably received a good bunch of promotional materials when ordering something online, and chances are, you've paid more attention to those flyers and brochures than you normally do.
Check-outs and Restaurant Tables
Don't disregard the power of letting people decide to take your flyers on their own. Spreading some stacks around the tables at a fast food place or at the check-out of a general store can work very well, as these are places where people tend to get bored and are looking for ways to kill the time. The fact that they're picking up the flyers themselves can have a positive impact on their perception of it too.
Are you ready to give your marketing campaign a nice boost and spread some flyers around? The only ingredient you're missing is someone who can get the actual printing done properly, and we know all about that. Give us a call and set up an appointment with the best printer in NYC, and we'll make sure that the complicated parts are taken care of.
We offer the latest printing methods. Contact us at 646-205-3037 to schedule a meeting.